In-Car Technology Concepts
Hewlett-Packard Laboratories | 2003 - 2004
This research concept was part of a much bigger investigation into how Working Parents could potentially use technology to enhance their daily lives. Initiated by Abigail Sellen the team created an online questionnaire that asked 715 participants to rate "problems" in there daily lives. The results from this questionare were then broken down into a number of catagories, this included the "car". From this discovery the team invited a number of working parents to join a focus group to discuse the problems further. A number of these problems were then developed and technology concepts designed.

Publications
Sellen, AJ. Hyams, J. and Eardley, R. (2004) 'The Everyday Problems of Working Parents: Implications for New Technologies' HP Labs Technical Report (HPL-2004-37) External

Eardley, R. Sellen, AJ. (2004) 'New Concepts to Support Working Parents in the Car' HP Labs Technical Report (HPL-2004-30) External

Eardley, R. Hyams, J. and Sellen, AJ. (2004) 'In-Car Concepts to Support Working Parents.' "Extended Abstracts of CHI '04, Conference on Human Factors in Computing systems," Vienna, Austria.

Visual & Interaction Design | Rachel Eardley
Project Management | Abigail Sellen
Data Analys and Focus Group Research | Jenny Hyams
Digital Window for In-Car Entertainment
Created using Adobe Illustrator

Entertaining both younger and older children in the car can be a problem on long journeys. The digital window emulates a roll-up car sunscreen allowing passengers to play games through touch input. This concept makes possible a whole new realm of games that incorporate features of the external environment.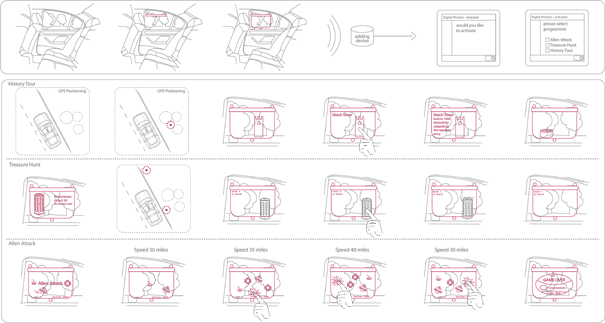 In-Car Inventory System
Created using Adobe Illustrator

A significant problem for working parents is remembering all the items that they and their children need to take with them in the morning during term time. This concept proposes a system of RFID tags used in conjunction with an in-car inventory system. By tagging key objects (such as book bags, PE kit, books, keys, and wallets) a sensor in the car can detect and list all the objects that enter the car so that the parent can check all the necessary items are on board before leaving the house.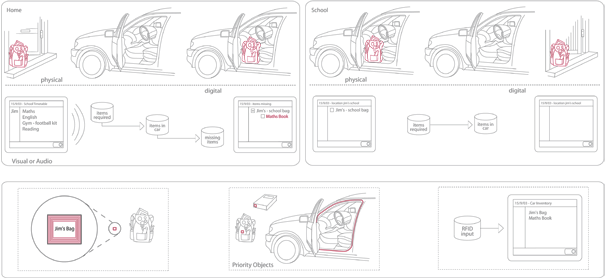 Parental Control for In-car entertainment
Created using Adobe Illustrator

This concept allows the working parent to control and maintain awareness of in-car media viewed or listened to by the children. The parent can select the media type (music, video, or computer game) choose the album or movie and specify where the media can be accessed. This method helps deal with the problem of the parent having to help their younger children change tapes or cds.