Active Posters
Hewlett-Packard Laboratories | 2004
The Active Posters research project, initiated by Tim Kindburg, investigated how digital information could be obtained through the use of bar codes on printed posters.

Illustration
| Rachel Eardley
Project Management
|
Tim Kindburg
, Kenton O'hara
Other Members
| Phil Stenton, Jo Reid, Erik Geelhoed, Paul Marsh, Tom Melamed, Constance Fleuriot, Kirsten Cater & Victoria Bartlett.
Senario Storyboards
Created using Adobe Illustrator
As part of the Active Posters research project, the team attempted to come up with a number of user senarios. My role included defining and visualising these storyboards.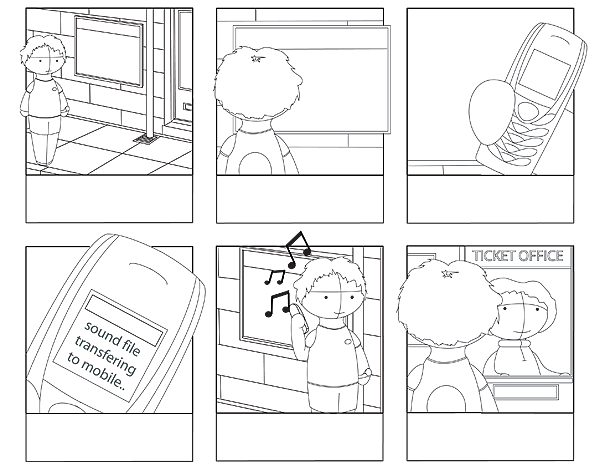 Senario Posters
Created using Adobe Illustrator & Photoshop
These posters were created to investigate a number of different interaction techniques for downloading visual information, video clips and audio clips